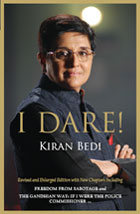 I Dare!
Author: Kiran Bedi Category: Autobiography, Bestsellers ISBN: 9788189988548 Binding: Paperback Dimensions: 230 x 150 mm Number of Pages: 392


Corrupt practices have seeped into the very vitals of our governance and the common people have lost trust in the administrative and legal systems and processes . . . . The country needs a total overhaul of its investigative and prosecuting machinery and also of its vigilance systems. It needs an independent anti-corruption authority that would have the legal powers to investigate and prosecute.
The eyewitness account – forthright and unsparing – in this fully revised and updated edition provides a well-documented exposé of the sabotage of police reforms (to be implemented as per a verdict of the Supreme Court of India) by certain bureaucrats and by some members of Kiran Bedi's own service. These persons also blocked her appointment as police commissioner.
This kind of sabotage was the proverbial last straw that compelled her to 'shake off the shackles'. After a long and rewarding innings (35 years in all), Kiran Bedi decided to move on. She believed that she could no longer work with persons who were keeping the system enslaved. She was clear in her mind that she was not going to be subordinated by this team of saboteurs. What direction and leadership would such persons provide except to create pygmies and stifle initiative and crush morale? She did not want to be a part of such dubious 'history'.
As she asserts: 'My self-respect, my innate sense of justice and my beliefs and values in life propelled me to throw off the "yokes" that were already obstructing my growth and I now made up my mind to set myself free and be a master of my own time.'
In this revised and enlarged edition, she provides the motivation for, and the background to, the people's crusade against corruption headed by Anna Hazare and his team members. Their untiring efforts have led to the formation of a Joint Committee (made up of Central ministers and eminent members of civil society) to draft a new Janlokpal Bill that seeks to effectively combat the widespread menace of corruption.
This is a no-holds-barred narrative packed with punch, spirit and vitality.
---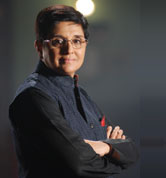 Chosen as 'India's most admired woman', Kiran Bedi is a highly recognized and decorated police officer, who has won several accolades, including the Ramon Magsaysay Award for Government Service. Throughout her career, Kiran Bedi (who joined the Indian Police Service in 1972) dared to remain innovative to meet the challenges posed by her different assignments: be it policing, managing prisons or imparting training. She won the admiration and respect of millions, both outside and within India.
Leave your thoughts