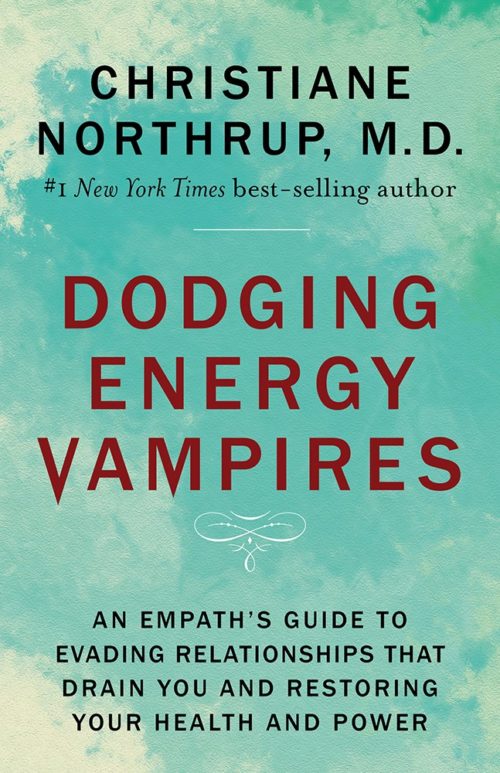 Dodging Energy Vampires: An Empath's Guide to Evading Relationships that Drain You and Restoring Your Health and Power
Author: Christiane Northrup Category: Inspirational & Personal Growth, Mind-Body-Spirit ISBN: 9789386832566 Binding: Paperback Dimensions: 8.5 x 5.5 inch Number of Pages: 248


Highly sensitive people—or empaths—see life through the eyes of compassion and caring. They were born that way. As a result, they carry a tremendous amount of inner light. But they're also the favored prey of "vampires" who feed off empaths' energy and disrupt their lives on every level—physical, emotional, and financial.
In Dodging Energy Vampires, Christiane Northrup, M.D., draws on the latest research in this exciting new field, along with stories from her global community and her own life, to explore the phenomenon of energy vampires and show us how we can spot them, dodge their tactics, and take back our own energy. You'll delve into the dynamics of vampire-empath relationships and discover how vampires use others' energy to fuel their own dysfunctional lives. Once you recognize the patterns of behavior that mark these relationships, you'll be empowered to identify the vampires in your life too.
In these pages, Dr. Northrup opens up a toolbox full of techniques you can use to leave these harmful relationships behind; heal from the darkness they've cast over your mind, body, and spirit; and let your own light shine. In the end, you may find yourself healthier, happier, wealthier, and more vibrant than you ever believed possible.
---
Christiane Northrup, M.D. is a visionary pioneer and beloved authority in the field of women's health and wellness. A board-certified OB/GYN physician who graduated from Dartmouth Medical School and did her residency at Tufts New England Medical Center, Dr. Northrup was also an assistant clinical professor of OB/GYN at Maine Medical Center for over 20 years. Recognizing the unity of body, mind, and spirit, Dr. Northrup helps empower women to tune in to their innate inner wisdom to transform their health and truly flourish. Dr. Northrup is the author of two New York Times best-selling books, Women's Bodies, Women's Wisdom (Bantam, revised 2006) and The Wisdom of Menopause (Bantam, revised 2006). Her third book, Mother-Daughter Wisdom, was a 2005 Quill Award nominee and voted Amazon's #1 book of the year in both parenting and mind-body health in 2005. Her latest book, The Secret Pleasures of Menopause, is just released. She has also hosted six highly successfully public television specials. Her most recent, Menopause and Beyond: New Wisdom for Women, began airing nationwide in March 2007. Her work has been featured on the Oprah Winfrey Show, the Today Show, NBC Nightly News, The View, the Rachael Ray Show, and Good Morning America.
Leave your thoughts