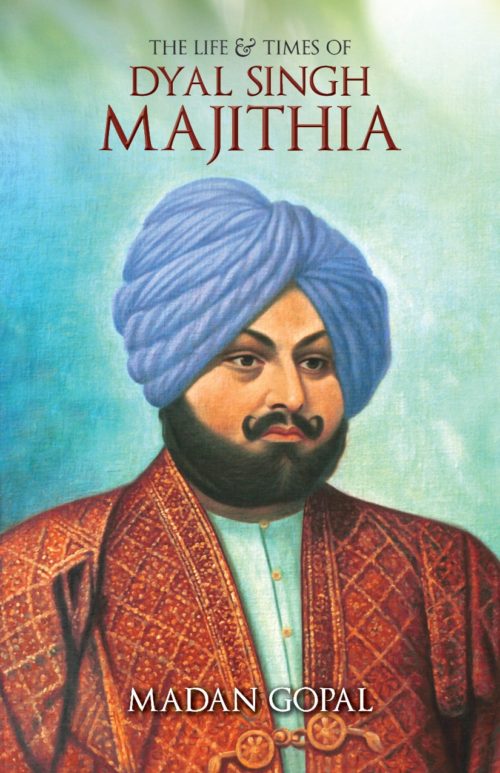 The Life & Times of Dyal Singh Majithia
Author: Madan Gopal Category: Biography & Memoir ISBN: 9789385827990 Binding: Paperback Dimensions: 216 x 140 mm Number of Pages: 84


The Punjabi who founded The Tribune, the Indian who saw tomorrow
Dyal Singh Majitha was more than just the founder of The Tribune, the man who left his fortune to the Dyal Singh College in Lahore – its successor institution is in the heart of Lutyens' Delhi. He was also a leading businessman and philanthropist of late 19th century India one of the founding fathers of Indian nationhood. He was the only Punjabi in the 'group of 17' that met in Chennai and agreed to set up the Indian National Congress, a rare north Indian luminary in the predominantly Bengali Brahmo Samaj, the child of a Sikh warrior clan that had fought alongside Ranjit Singh, who travelled to Europe and sought to replicate the best of the Enlightenment in his beloved Punjab, and his treasured India.
A strange, singular character, Dyal Singh was a philosopher and spiritualist who no one faith could claim nor consume. He anticipated the future, putting in the capital to help set up the first bank entirely run and owned by Indians, the Punjab National Bank, so that Indian industrialists could get easy access to capital to take on Britons. As a constitutionalist and a liberal, he realised the value of the free press and set up what became northern India's leading nationalist newspaper in the English language. Yet he had good friends among the British and admired their educational system, insisting that the University of Punjab be not an Oriental seminary but modelled on the University of London.
Today, the institutions he put in shape continue to influence two nations. Not surprisingly, he is the only public figure who has had biographies published by the governments of both India and Pakistan. Even the Wagah border, so close to his native village of Majitha, cannot divide his legacy.
---
Born in 1919, journalist, biographer and novelist Madan Gopal graduated in science from St. Stephen's College, Delhi. In 1940 he began working on a short biography of Munshi Premchand, a subject that was soon to become the defining passion of his life. His major acclaimed works include: Premchand: A Literary Biography, My Life and Times (transcreated out of Premchand's writings); translations of Select Short Stories by Premchand; and the mammoth 24-volume Kulliyat-e-Premchand (the complete works of Premchand) in Urdu. Madan Gopal has also written the biographies of Bhartendu Harishchandr (considered 'the father of modern Hindi literature'), Balmukund Gupta (a well-known Hindi essayist), Tulsidas (the medieval poet who penned the Ramcharitmanas), Sir Chhotu Ram (a Congress leader termed 'the messiah of farmers') and Sardar Dyal Singh Majithia. Madan Gopal lives in Delhi.
Leave your thoughts