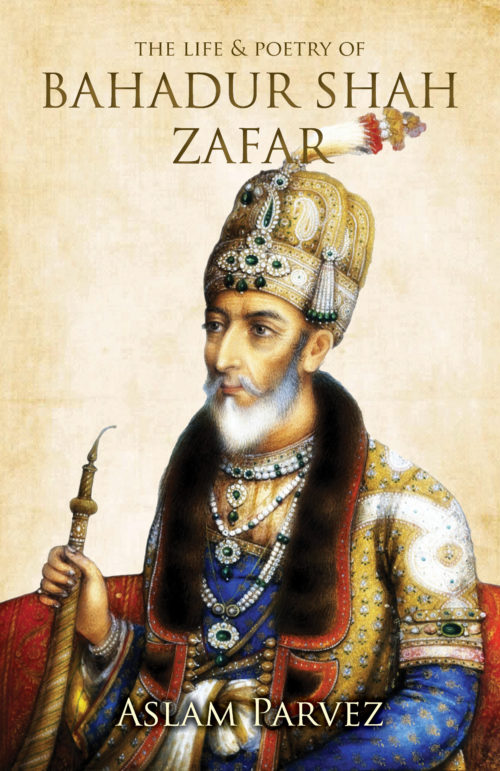 The Life & Poetry of Bahadur Shah Zafar
Author: Aslam Parvez, Ather Farouqui Category: Biography & Memoir ISBN: 9789385827471 Binding: Hardback Dimensions: 230 x 150 mm Number of Pages: 240 + 12 colour pages


An absorbing, authentic and exemplary chronicle – studded with rare nuggets of information and enthralling anecdotes – of one of the most tragic figures of history who was witness to the end of a glorious dynasty
First published in Urdu in 1986, this 'labour of love' brings alive the life and poetry of Bahadur Shah Zafar (1775 to 1862), the last Mughal Emperor. Zafar presided over a crucial period in Indian history when the country was subjugated and became a colony of the fast-expanding British Empire. Aslam Parvez's account – with its wealth of detail – stands out in the manner in which it weaves together the strands of the political, the personal, the cultural and the literary aspects of a bygone era. This work is as much about the 1857 Rebellion as it is about Bahadur Shah Zafar, the reluctant leader of the rebels. The pages also evoke the captivating ambience of a period when formidable poets such as Mirza Ghalib, Sheikh Muhammad Ibrahim Zauq and Momin Khan Momin, apart from Zafar himself, came up with one creative gem after another.
The author also provides a vivid and fascinating picture of Delhi during the last days of its cultural and literary splendour as the Mughal capital and as a custodian of Urdu literature and poetry. Finally, he recounts, in a touching manner, how Zafar spent his last days in Rangoon (where he had been exiled by the British) – a lonely and forgotten individual – far away from his beloved Delhi and from the trappings of his empire.
---
Aslam Parvez (born 1932), a poet himself, belongs to the first generation of educationists at Jawaharlal Nehru University, New Delhi, the bastion of liberal thought, where he had served from 1972 to 1997. Earlier, he had taught at the historic Dilli College (now Zakir Husain Delhi College). He obtained his PhD from Delhi University and was the first scholar to write his doctoral dissertation (in 1965) on Bahadur Shah Zafar. An author of a dozen books, he has tried to build bridges between Hindi and Urdu and published a collection of poetry in Hindi, which has been greatly appreciated.
Author of Islamic Banking in India at the Service of Pan-Islamists which forced the UPA-II to reverse its decision to allow Islamic banking, and of Marx My Word, a unique play of Marxist dichotomy, Ather Farouqui, a PhD from JNU, is a pioneer scholar of Urdu language and its education. For long he has been arguing that instead of modernizing Deeni Madrasas, the government should provide Urdu education as part of the secular curriculum of school education. A Sahitya Akademi Award winner for translation, he is the editor of Muslims and Media Images and Redefining Urdu Politics in India. Presently, he is the General Secretary of the 125-year-old Anjuman Taraqqi Urdu (Hind). He lives in New Delhi.
Leave your thoughts