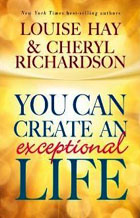 You Can Create an Exceptional Life
For countless  people around the world, the words of Louise Hay have served as a beacon, leading them out of the darkness of despair and into the light of a better life. Cheryl Richardson is one of the many individuals whom Louise has greatly influenced . . . before going on to become a best-selling author herself.
So what happens when these two combine their collective wisdom into one book? The result is what you're now holding in your hands. As Louise and Cheryl engage in a series of empowering and intimate conversations, you'll feel as if you're simultaneously having lunch with your best friends and also attending a master class put on by two leaders of the self-empowerment movement.
As they travel throughout North America and Europe together, Louise and Cheryl discuss a wide range of topics, including the importance of loving ourselves and our bodies; aging consciously; bringing true prosperity and abundance to the world; manifesting positive relationships—both with family and friends and in the workplace; and facing death in a dignified and peaceful way. These two amazing women are living proof that the spiritual principles they discuss in these pages really work. As you read, you'll discover that you, too, have the ability to create an exceptional life!
---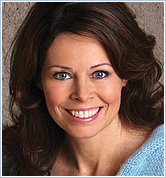 Cheryl Richardson is the author of The New York Times bestselling books Take Time for Your Life, Life Makeovers (Broadway Books) and Stand Up for Your Life (Free Press) and the new book The Unmistakable Touch of Grace (Free Press, 2005). As a professional speaker, Cheryl has designed and presented programs to universities, Fortune 500 companies, educational conferences, and professional associations. Her work has been covered widely in the media including The Today Show, Good Morning America, CBS This Morning, New York Times, USA Today, Good Housekeeping, and O Magazine. Cheryl was the team leader for the Lifestyle Makeover Series on the Oprah Winfrey Show and she accompanied Ms. Winfrey on the "Live Your Best Life" nationwide tour. Cheryl served as the co-executive producer and host of "The Life Makeover Project with Cheryl Richardson" on the Oxygen Network and as the co-executive producer and host of two Public Television Specials — Stand Up for Your Life and Create an Abundant Life.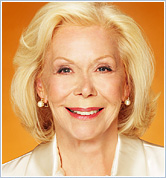 Louise Hay, the author of the international bestseller You Can Heal Your Life, is a metaphysical lecturer and teacher with more than 40 million books sold worldwide. For more than 25 years, Louise has helped people throughout the world discover and implement the full potential of their own creative powers for personal growth and self-healing. Louise is the founder and chairman of Hay House, Inc., which disseminates books, CDs, DVDs, and other products that contribute to the healing of the planet.
Leave your thoughts