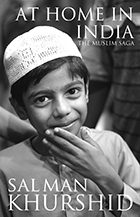 At Home in India: The Muslim Saga
As a former Union minister who has held several crucial portfolios, Salman Khurshid, on the basis of his vast and varied experience, recounts how Muslims in India accept this country as their own despite many provocations and allegations doubting their patriotism. In the process, he reinforces his contentions by providing numerous real-life examples of how the community has proved its commitment and capability by making immense contributions in almost all fields.
This timely volume, which covers a wide span from the late nineteenth century to the present, brings out succinctly the pivotal roles played by a galaxy of distinguished Indian Muslims.
The author describes how the Aligarh Muslim University in Uttar Pradesh and the Jamia Millia Islamia (Delhi) came into being and how many of their alumni became part of the freedom movement and made sincere efforts at fostering and maintaining communal harmony. Post-Independence, Salman Khurshid emphasizes the importance of outstanding Muslim leaders who served as role models for the younger generation.
The author does not shy away from hypersensitive issues such as terrorism, communal riots, a Uniform Civil Code, present-day Muslim leadership (or lack of) and the place of women in Islam, with a focus on the Shah Bano case. He underscores the significance of the 'trust deficit' on the part of Muslims vis-à-vis the police (based on a recent report of the directors-general of police from different states) and spotlights the July 2014 verdict of the Supreme Court with regard to the Shariat and fatwas. He rounds off the book with an analysis of what the future could hold after the recent victory of the Bharatiya Janya Party and its allies in the 2014 Lok Sabha elections.
Salman Khurshid tackles each and every topic with candour, sensitivity and forthrightness.
---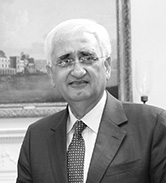 Born on New Year's Day 1953 into an eminent family, Salman Khurshid had his initial education in Delhi before obtaining his Masters from Oxford University, UK. He began his political career as an officer on special duty (in the early 1980s) in the Prime Minister's Office during Indira Gandhi's tenure. Since then, he has served as Union minister in various ministries. In the outgoing cabinet, he was minister for external affairs. He is the author of the bestseller Beyond Terrorism: New Hope for Kashmir (1994) and of a play Sons of Babur (2008). He and his wife Louise run the Zakir Husain Memorial Trust for the physically challenged.
Leave your thoughts