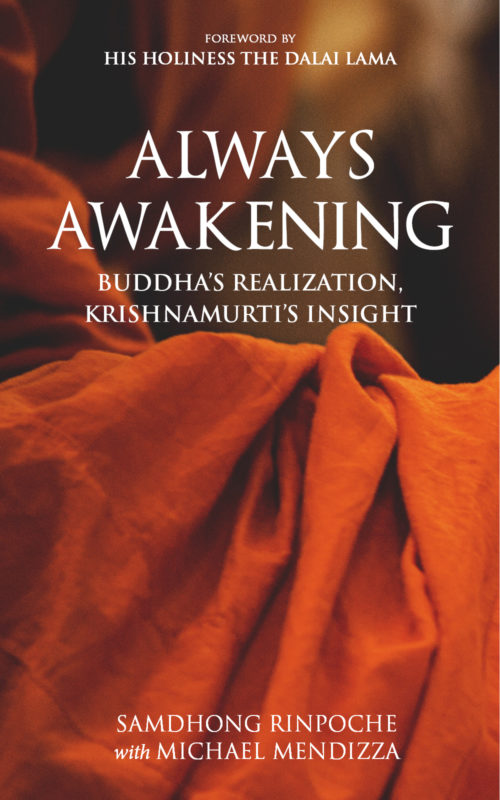 Always Awakening: Buddha's Realization, Krishnamurti's Insight
Author: Michael Mendizza, Samdhong Rinpoche Category: Philosophy ISBN: 9789385827679 Binding: Paperback Dimensions: 216 x 140 mm Number of Pages: 312


The word Buddha means "awakened one" or "the enlightened one". This title refers to one who perceives directly the illusory, limited, and conflicted nature of reality common to humanity, and the false identity formed on this misguided foundation. With this awakening, everything changes; without it, nothing changes. Awakening therefore is and has been humanity's greatest challenge.
Without compassion, Always Awakening explores how this insigt was addressed 2,500 years ago by Gautama Siddhartha, and in a contemporary context, lanugage, and metaphor by Krishnamurti. It engages and gives voice to one of the world's most respected Tibetan Buddhists, Samdhong Rinpoche, a distinguised scholar, trusted colleague of His Holiness the Dalai Lama, and the only one with his background and training who had a personal relationship with Krishnamurt over many years.
For those with a Buddhist orientation, Always Awakening provides a fresh context to approach and explore Krishnamurti's observations. For those familiar with Krishnamurti, Always Awakening provides a lucid and accessible window into Buddhist philosophy, practices, and traditions. The approach used by these two paradigms, these two ways of seeing, centuries apart, are very different, and this difference is exemplified in one of Krishnamurti's most distilled statements: "It is the responsibility of each individual to bring about their own transformation, which is not dependent on knowledge or time." Always Awakening explores the common insight great teachers have been encouraging for thousands of years.
---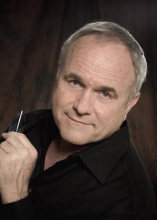 Michael Mendizza is an author, educator, documentary filmmaker and founder of Touch the Future, a nonprofit learning design center. He is the author of two books: Magical Parent-Magical Child, the Art of Joyful Parenting, co-authored with Joseph Chilton Pearce, applies research on optimum states to parenting and to education and Flowering, a collection of dramatic floral images and quotes by Krishnamurti. In addition Michael and his wife nurture ZFolio Galleries, a growing collection of art galleries featuring international designer jewelry, Czech Art Glass, Michael's photography. Inspiration for this work emerged from personal relationships with Pearce, physicist David Bohm, philosopher J. Krishnamurti, and over one hundred scientists, authors, and educators. If being in an optimum state is important to professional athletes, imagine what this could mean to parents, childcare providers, educators, coaches and the children they love.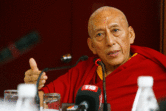 Lobsang Tenzin, better known by the titles Professor Venerable Samdhong Rinpoche and to Tibetans as the 5th Samdhong Rinpoche (born 5 November 1939), was the previous prime minister of the Central Tibetan Administration, or Tibetan government-in-exile, which is based in Dharamshala, India; Lobsang Sangay was elected to this position in April 2011. A close associate of 14th Dalai Lama, the Tibetan leader, he was elected to his current position in 2001. Lobsang Tenzin was born in Jol, in eastern Tibet. At the age of five, he was recognised, according to Tibetan tradition, as the reincarnation of the 4th Samdhong Rinpoche and enthroned in Gaden Dechenling Monastery at Jol. Two years later he took vows as a monk, started his religious training at Drepung Monastery in Lhasa and completed it at the Madhyamika School of Buddhism. But in 1950, after the Chinese invasion of Tibet, he was forced to go into exile in India along with the 14th Dalai Lama, Tenzin Gyatso. From 1960 onwards Lobsang Tenzin worked as a teacher in Tibetan religious schools in India, first in Simla and later in Darjeeling. Between 1965 and 1970 he was the Principal of Dalhousie Tibetan School and between 1971 and 1988 he was the Principal of Central Institute of Higher Tibetan Studies (CIHTS) at Varanasi (Benares), and from 1988 to 2001 he was the director. He is regarded as one of the leading Tibetan scholars of Buddhism and is also an authority on the teachings of Mahatma Gandhi. He is fluent in Hindi and English, Tibetan being his mother tongue. In 1991 Lobsang Tenzin was appointed by the Dalai Lama as a member of the Assembly of Tibetan People's Deputies, and later was unanimously elected as its chairman. Between 1996 and 2001 he was an elected member of the Assembly representing exiled Tibetans from Kham province and also its chairman. In 2000 the Dalai Lama decided that the Tibetan people in exile should elect their own Prime Minister, and in July 2001 Lobsang Tenzin was elected with about 29,000 votes, or about 84% of those cast, which is about 25% of the exile Tibetan population. Juchen Thubten Namgyal, the other candidate, won the remainder. Since 2001 he has travelled extensively to gain support for the cause of Tibetan autonomy and raise awareness of the Dalai Lama's proposals for negotiating autonomy with the Chinese government.
Leave your thoughts